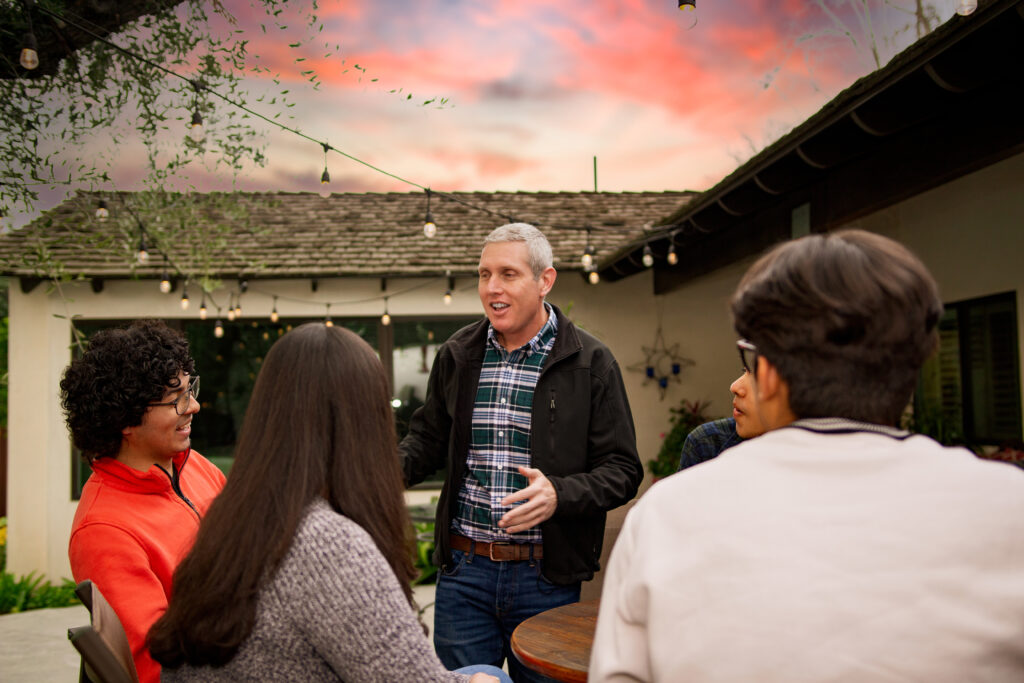 Ian Patton was born and raised in the Bixby Knolls and Cal Heights neighborhoods of the new 5th Council District, went to Long Beach public schools (Longfellow, Hughes, and Poly), and gained a history degree from UC Berkeley. He is a third generation rental housing provider, expanding the business started by his immigrant grandfather.
Ian is also a lifelong student of politics and public policy, having gotten his start volunteering for our late state senator and assemblywoman Betty Karnette and after college having worked for our late US congressmember in the local district office. Later Ian worked part-time as a consultant, in addition to managing and investing in rental property, before devoting his political skills to pro bono local activism in recent years.
Ian is running to be that too-often missing in action resident advocate, small business advocate, and taxpayer advocate.
As the volunteer executive director and co-founder of the Long Beach Reform Coalition (LBRC), the organization he built and served as a volunteer for the last four years, his running for Council is a natural extension of LBRC's city hall reform efforts.  LBRC's mission is to build greater City Hall resident responsiveness, transparency, and accountability.
He looks forward to working on an agenda of local resiliency:
restoring our public safety (the police force is down from over 1,100 officers to under 750) and emergency 911 resources (the Bixby Knolls fire station and the east side Community Hospital ER have been shuttered due to city mismanagement),
tackling the homelessness crisis (up 62% just at the last count) by reforming the dysfunctional and wasteful city Homelessness Bureau,
cleaning up our air (by advocating for federal funds to electrify goods movement related to the port),
adding to and better maintaining our parks,
fixing our street repair backlog,
moderating taxation on residents and small businesses (as the leading opponent of our punitive, regressive, sky-high city sales tax), and
demanding the greatest performance possible from our tax dollars in terms of services and capital investment.
Only a reform agenda can achieve these goals, which means the initiation of an outside audit of city hall by a council member with a track record of digging into details, investigating waste, fraud, and abuse, and rooting out the self-dealing that characterizes the current use of our tax dollars.
That's the work Ian has already been doing for years at the Long Beach Reform Coalition.
Ian is:
the only small business owner in the 5th District race
the only candidate well-known as a leader in the local government reform movement (having written the Long Beach Reform Pledge)
a board member of the local nonprofit Riverpark Coalition (fighting for implementation of the LA River Masterplan for park space)
a former board member and longtime volunteer with the Historical Society of Long Beach
an active member of local service organizations such as Rotary and Kiwanis, as well as environmental organizations such as the Sierra Club and the Torrance Refinery Action Alliance.
While the new 5th District, covering most of the city between Spring and Del Amo, from the LA River to the edge of El Dorado Park, is still a great place to live, there is only one candidate equipped to defend our enjoyable, tree-lined streets from imminent threats: From rising crime to crumbling streets and parks to small businesses faltering to developers threatening single family-zoned neighborhoods to the spiraling homelessness crisis, the dangers are serious.
Ian has the knowledge, background, and wherewithal to protect what we have and lead us back to a more peaceful, quiet, resident-serving, and secure future.